What I Learned from France
Bonjour!
Yesterday at this time, I was somewhere in transit between my home in Wichita, Kansas, and my temporary workplace in Toulouse, France, where I'd been since January 3rd on business travel. At the time, I was probably greasy and tired, and although I'm not tracing the exact time, there's a good chance I was getting yelled at by rampant children while trying to sleep. But the trip was good, fun, and productive, and I'm very happy to be home and see my wife. The slightly unexpected travel put things here on the site temporarily on hold, so I missed some personal deadlines. Expect me to be working hard to make up for that time!
France was an interesting experience. Many things are different than here in the US, some are the same, and among both I thought I'd give you some takeaways from my trip.
Driving in Europe really is different, and it can be treacherous. Although traffic is at least on the same side of the road as in the US, the streets and intersections are way different. They really love roundabouts there, which I became very comfortable with over my two week stay. Not only that, but their downtown driving really is like you see in pictures or movies, where you're shooting a pretty narrow gap and basically guessing what will happen when you hit an intersection. Here's a picture of one of the better downtown streets: 
Walking to work is really rewarding… and it can be treacherous. The facility I was working at was probably half of a mile away from my hotel. France seemed to be cool and wet this time of year (a very "Mediterranean" feel… which makes sense here actually), and I took the opportunity to walk to work. In the morning cool, it was almost always a great mental wake-up and a little bit of physical activity to get the blood flowing before my brain needed to start thinking. Get a little exercise in before you go out for the day! Oh, and the treacherous part. France is pretty darn good about having walking/biking paths, but some of them are pretty narrow and crossing the street still requires some guesswork. Here's a picture of part of my walk to work: 
The rain is coming. Get an umbrella. Ah, the other part of the treacherous walk. A couple of days it rained on us pretty good, and even snowed on us. We had a car, so a few days we had to drive in to work, but even then, the walk from the security office to our building was probably another half mile. Even when we drove, we still got drenched. Application time: you can't expect the unexpected, but you can sure prepare for the expected. We knew it would rain while we were there… it was France in the winter for two weeks. But we got caught with our pants down because we didn't prepare for what we knew was likely to happen. Case in point — got your emergency fund in place? Health insurance? Life insurance? Disability? Bad stuff happens. Don't get caught without an umbrella.
Plating can actually be pretty cool. I am known for many things, but being artistically inclined is definitely not one of them. All the same, one of the cool little restaurants we went to down the street from where we lodged had excellent food and really neat plating. Here's my first magret de canard (duck breast): 
Friendliness doesn't know the meaning of the phrase "language barrier," and a smile has the same effect the world around. My French got marginally better during my stay, but it was still brutal by the time I left. However, some people, rather than being irritated at my botched attempts at French, did their best to be helpful and still get a laugh in at my expense. There were several times when we tried our French and got laughed at, then they tried their English and we laughed at them — neither one in an irritated or hateful way, just people trying to help each other out. And in those interactions in particular, a smile always told the story. At this particular kebab-erie, the guy over on the right was extremely friendly, funny, and helpful.   There were French clerks I had a better relationship with than people at work… people who are always stone-cold serious and never have any fun are just a drag to be around, no matter what language they speak. The lesson: if you can't smile where you're at, change your attitude or quit and find somewhere you can smile. If you can't change your attitude… well, you're screwed. Learn how to and you'll make other people, and yourself, much happier.
Oh one more picture I just had to share. This copy of Carcassonne that I got from Carcassonne. A little bit more expensive, but I'm a pretty sentimental guy, and this right here makes the extra cost totally worth it: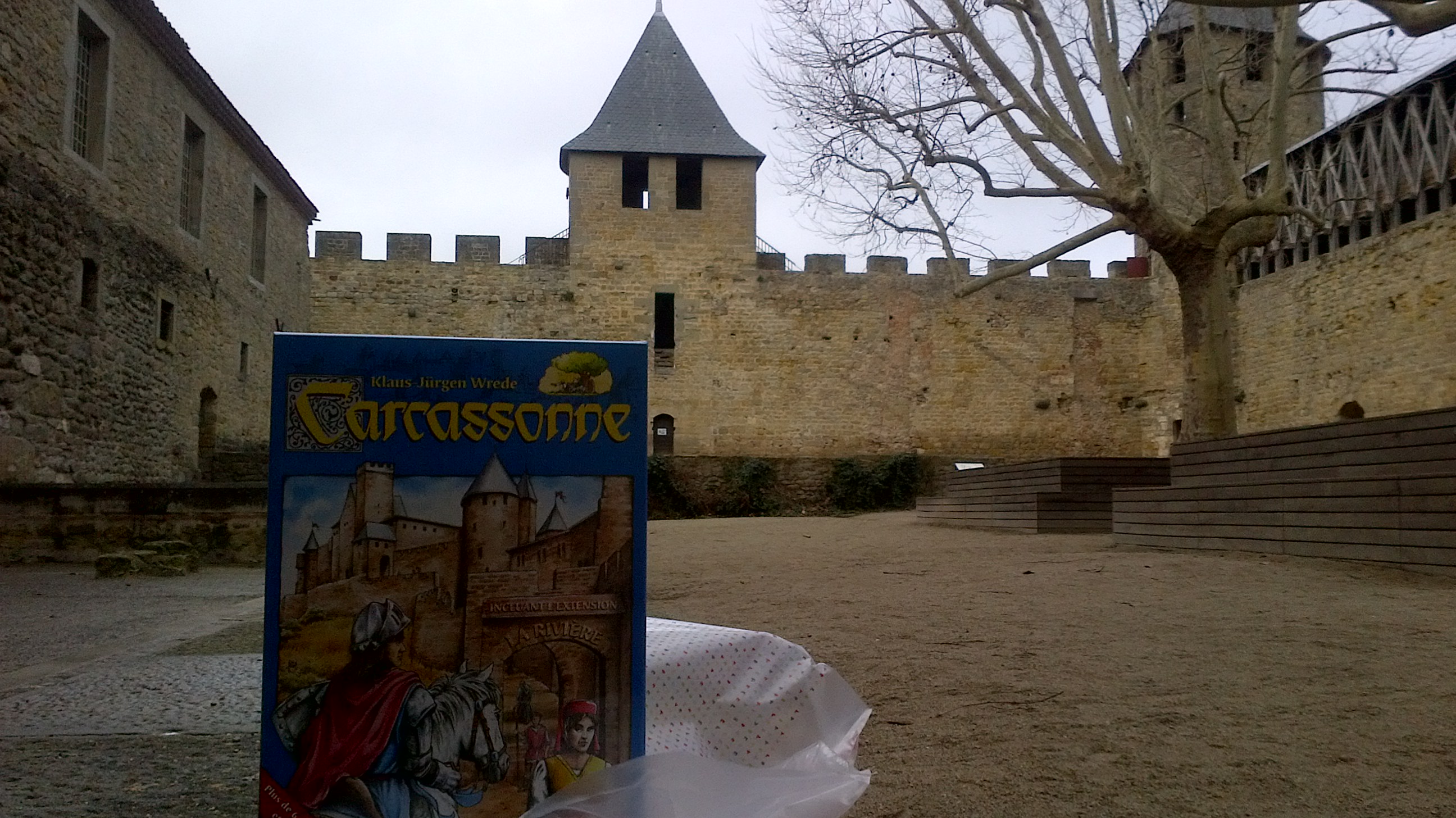 Well, I hope you've missed my activity at least a little bit while I've been gone. There are still big things coming for this business and website in the next year, so thanks as always for your readership, and keep coming back for more exciting things in 2013!
Au revoir!